What is "Maskne" and what can we do about it?
Remember when "face mask" was something that actually helped clear your skin? Those were the days… well folks it's 2020 and yes… "Maskne" is a thing. The clinical term for what we are calling "maskne" is "acne mechanica" which is caused by friction, rubbing, and occlusion of the skin by outside forces. This friction and irritation can trap and hold heat and sweat and block pores, causing skin rashes and acne breakouts. Athletes who wear helmets or other equipment straps will know this well. 
So even if you've never had acne before, or haven't had a breakout in years, it makes sense that we would see a rise in acne concerns in the last few months. Let's break down "maskne" and see what we can do to help with the causes and reactions. 2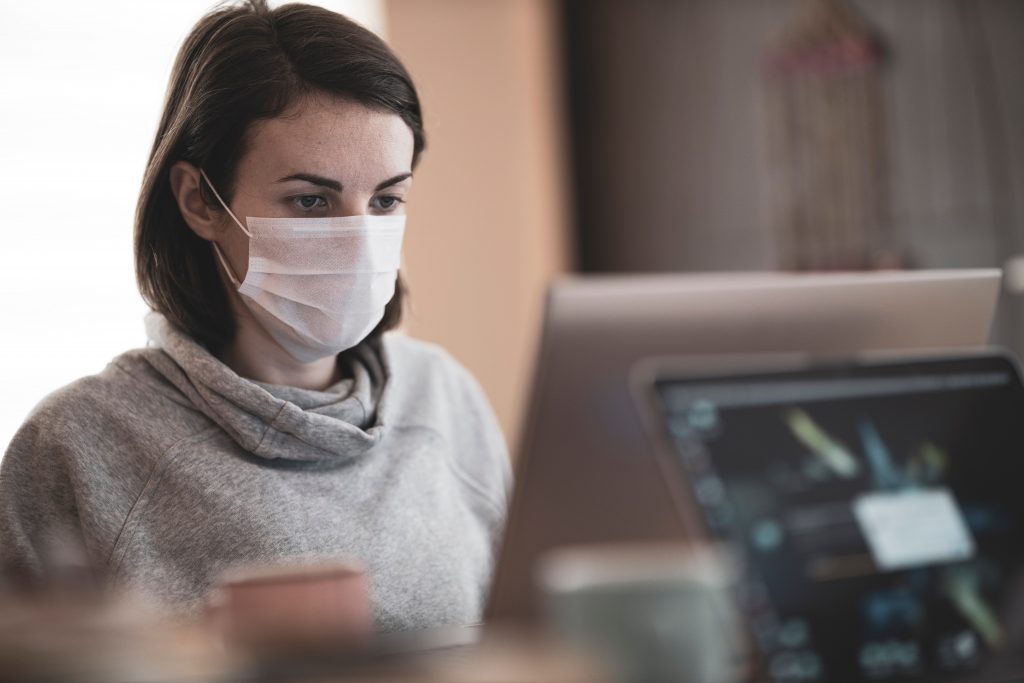 Treatment and Care Options
Believe it or not but we need to treat maskne differently than regular acne. Since we are still wearing masks continuously, the main cause of the acne in the first place, we want to take extra care of the problem area. Some suggestions from our pharmacists include:
Wash your face but be gentle! Wash your face before and after you wear your mask with a gentle cleanser. Don't over scrub to further irritate your face. Now is not the time to use harsh exfoliants or peels to treat this kind of acne. Be careful with common acne treatments such as harsh peels, Retin-A, or hydroxy acids, they will further damage the fragile skin barrier, making it more sensitive to the mask area when you wear one. You can also end up with dry patches, eczema, burning, and inflammation from these kinds of products. Not side effects we want to deal with underneath a mask! And if you do want to use these kinds of products, practice spot treatments instead of applying to the entire area. Specifically targeting bumps will help and not be over irritating for continued mask wear.
For those of you who wear makeup: ditch the foundation! It will only further trap bacteria in your pores. Go for a tinted moisturizer, or tinted sunscreen instead. These tend to be lighter and not as pore clogging as some traditional foundations. And lastly, use a moisture rich cream at night to restore your skin while you sleep!
Some of our favourite recommendations are from a local British Columbia company Chorus Supernatural. All of their products are naturally sourced, spa quality skin care products. Our top favs are the Cleanse facial cleanser and Hydrate moisturizer which are both super gentle on skin! Other favourites our staff love are Cerave, Cetaphil, and Eucerin skin cleansers and moisturizers. All of these products are available for in-store or curb-side pickup! Ask us about free delivery in Calgary for orders over $50!

Choosing and Wearing a Mask Properly
Disposable masks are exactly that – disposable. They are meant for a one time wear to make sure you are not carrying or spreading bacteria. Homemade cloth or reusable masks are great options so you are not throwing away masks every time, and can be made with more comfortable fabrics such as cotton. However, we do need to watch how often we are wearing and washing them! You might have heard the phrase "treat your mask like underwear" and it couldn't be more true! Making sure you are wearing a clean mask will help with acne breakouts but will also help stop the spread of germs, which is exactly why we are wearing the mask in the first place!
If your maskne is not improving (or even getting worse!) speak with your family doctor, or talk with one of your personal pharmacists. Our pharmacists are here to help you find the right solution for your specific skin care needs. Our pharmacists also hold their additional prescribing authorization and are able to prescribe medications if needed. We are also able to compound a personalized skin cream to help tackle "maskne". 
Mention this blog post in-store for 10% off your next purchase!
Valid until August 31, 2020. Not valid on prescription, Metagenics, Seroyal, AOR, Ideal Protein, Sigvaris, or home healthcare items.